To further strengthen the cooperation between both parties, ECES and the Political Affairs, Peace and Security Department - DEAU signed an MoU in May 2021 to promote electoral integrity and free, fair, transparent, democratic and credible elections, as well as the prevention of electoral violence, and promotion of human rights and women political participation.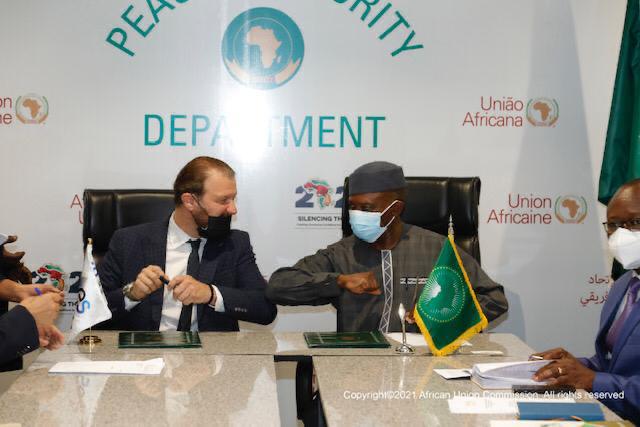 The MoU is in line with their respective mandates and has the following intended objective:
● Foster closer cooperation between the participants in the promotion of electoral integrity prevention of electoral violence, human rights and women's political participation by providing avenues of dialogue on these issues through regular consultation and meetings;
● Promote the development and implementation of joint activities in the area of electoral integrity, prevention of electoral conflicts, promotion of human rights and women's political participation;
● Ensure the regular exchange of experience and information between the participants, pertaining to the promotion of electoral integrity, prevention of electoral conflicts and violence, promotion of human rights and women's political participation. Consequently, this MOU will strengthen cooperation and synergies between the AU and ECES, recognising their complementarity in promoting electoral integrity, preventing electoral violence and strengthening human rights within electoral processes.
ECES and AUC both consider the implementation of this MoU as an important step toward expanding on the shared objectives of contributing to the promotion of regular, credible, sustainable and inclusive elections in African countries with a key outcome of conflict prevention. Among other activities, the signed MoU between ECES and the AU emphasises collaboration in three main areas:
Promotion of electoral integrity, for example through voter education campaigns, media monitoring, support to political parties and parliaments, institutional communication, resolution of electoral conflicts and Electoral Political Economy Analysis (EPEA);
Prevention, management and mitigation of electoral violence: the collaboration between AU-ECES will allow the development of a database on the typology of conflicts in order to improve the early warning mechanism for the prevention of electoral conflicts and '' explore the full potential of the ECES Leadership and Conflict Management skills (LEAD) training program;
Strengthening human rights and political participation of women, where the two organisations will have the opportunity to work together in the framework of legal and technical assistance to national institutions and political parties in order to increase the participation of women, youth and disadvantaged groups in electoral processes.
In furtherance of actualising provisions of this MoU and also following exchanges between ECES and the AU-DPAPS as per the priority of the first year of implementation of the MoU, the "PRO-Electoral Integrity" project was conceived and designed to provide technical support to a broad range of electoral stakeholders on the African continent with the overall objective of contributing to the conduct of credible, and inclusive elections in African Union Member States by creating conducive conditions for peaceful participation, prevent electoral conflicts, promote electoral integrity and strengthen citizens participation in electoral and political processes, thereby leading to democratic consolidation.
As per the AU 2063 agenda, national capacity building, information sharing, and coordination at the regional level are needed to boost regional integration. The AU has a critical role to play in this regard, including sharing best practices and comparative experiences via electoral assistance. Consequently, the project's proposed specific objectives are distilled into seven strands:
Promotion of electoral integrity through strengthening the capacities of AU Member States' EMBs to conduct credible, transparent, peaceful, sustainable elections, focusing on countries exiting from complex political situations and affected by fragility (Libya, South Sudan, Somalia, Gambia, Chad, Mali, Sudan, and the Horn of Africa among others);
Support Civic and Voter Education programming and peace outreach activities in the AU Member States;
Strengthening political parties' system of member states within Africa;
Enhancing the capacities of the AU Election Observation Missions (AUEOM);
Support to parliamentarians and parliamentary institutions;
Strengthening electoral dispute resolution mechanisms and;
Enhancement of human rights, mainstreaming gender, enhancing women's political participation and inclusive action for marginalised groups in Africa's electoral processes.